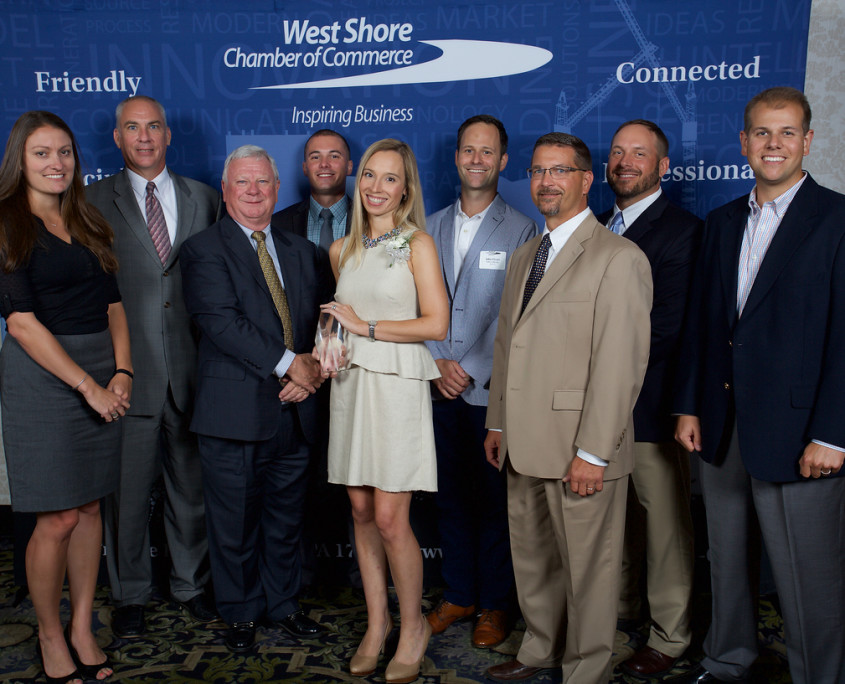 (Names of individuals pictures from left to right:  Marissa Price, Jamie Keener, Russ McIntosh, Ryan Brockman, Adrienne Vicari, John Vicari, Andrew Kenworthy, Howard Hodder, Ryan Albright)
The West Shore Chamber of Commerce recently honored Adrienne Vicari with the Shining Star Award at their 2016 Luminary Awards luncheon.  This award is given to a woman who excels both as a professional in her industry and as a volunteer in the community, and Vicari is a true leader in both areas.
Vicari is the financial services manager at Herbert, Rowland & Grubic, Inc. (HRG) and a shareholder of the firm. As a dedicated team player, Vicari has excelled at any role the firm has given her.  She first joined the firm as an engineer but quickly developed expertise in water and wastewater system financing, too.  After taking on a role in the firm's Financial Service Group, she quickly became a thought leader in the industry, publishing articles in industry magazines and making presentations at conferences on a wide variety of water and wastewater system finance issues.  She is also developing a reputation as a leader in the emerging field of stormwater authorities in Pennsylvania.
Beyond her work at HRG, Vicari works hard for various community organizations:  She serves on the Board of the Cumberland Valley Softball Association and coaches for both the Cumberland Valley Softball 10U team and Central Penn Mini Sticks field hockey team.  She is also a founding member of Sp*rk, a group of West Shore moms who volunteer with their children for local community groups like Caitlin Smiles, Leg Up Farm, Ronald McDonald House, Dress for Success, and others.
It is such an honor to be recognized alongside so many talented women who have contributed to their profession and the entire Harrisburg community," Vicari says. "I'm so happy that the West Shore Chamber is donating to the New Hope Ministries in recognition of this honor.  I can't think of a more deserving organization that benefits this community."
The West Shore Chamber of Commerce donates a portion of the proceeds from the award ceremony to a non-profit chamber member chosen by the award winners.  New Hope Ministries helps close to 15,000 residents of York and Cumberland Counties each year to become self-sufficient through counseling, workforce training and development, crisis assistance, and youth programs among others.
ABOUT THE LUMINARY AWARDS
The Luminary Awards Luncheon was held at the Radisson Hotel in Camp Hill on August 31. The Chamber's Women in Business Roundtable Committee selected the winners from a group of nine female nominees who exemplify leadership in the workplace and the community.
ABOUT HRG
Originally founded in 1962, HRG has grown to be a nationally ranked Top 500 Design Firm, providing civil engineering, surveying and environmental services to public and private sector clients. The 200-person employee-owned firm currently has office locations in Pennsylvania, Ohio, and West Virginia. For more information, please visit the website at www.hrg-inc.com.
http://www.hrg-inc.com/wp-content/uploads/2016/09/Luminary_733x548.jpg
548
733
Judy Lincoln
http://www.hrg-inc.com/wp-content/uploads/2015/04/Logo.jpg
Judy Lincoln
2016-09-12 14:44:32
2016-09-14 12:15:38
Vicari Named Shining Star by West Shore Chamber