This post is an excerpt from an article we published in the June 2017 issue of Borough News magazine entitled "Strategic Asset Management: Optimizing Your Borough's Dollars."
We hear a lot these days about the virtues of running government like a business, but what does that mean?
Any profitable business owner can tell you that success doesn't happen by accident. Managers spend a good bit of time and money studying the environment in which they operate, identifying opportunities and threats, and planning the best ways to maximize growth while minimizing risk.
Though these efforts cost money, prudent managers know it is an investment in the company that will pay higher dividends over the long-term.
Part of a businessman's overall strategic planning effort involves cataloguing his assets and maximizing their value. Assets can be wide-ranging: from people to trucks to buildings. The goal of asset management is to optimize the way you spend your budget dollars in order to make sure they are providing the biggest return: reducing the life cycle costs while maximizing the service each asset provides.
Who needs to optimize the way they spend their budget dollars more than cash-strapped municipalities under pressure to keep taxes low while obligations increase?
Most municipalities are grappling with aging infrastructure. Take water systems, for example: The American Society of Civil Engineers estimates that the cost to keep our water and wastewater system functioning over the long term is more than $1 trillion. While there is plenty of work to be done, there is simply not enough funding for communities to do it all at once. Therefore, ASCE recommends assessing the condition of every pipe and valve to determine the risks of failure and properly allocate funds where they are needed most. Asset management and capital improvement planning can help you target your limited budget dollars most effectively in all types of infrastructure: roadways, bridges, stormwater management systems and more.
For example, new technology is making it possible for municipalities to extend the life of their roadways through roadway management systems. Cameras and laser-scanning technology can be mounted to trucks that record the conditions of a municipality's entire roadway system: noting cracks, pot holes, wheel rutting, and more. Doing this work manually would've been too labor-intensive and cost-prohibitive for communities in the past, but now, thanks to technological advancements, municipalities can collect better data at a lower cost without road closures or detours!
Once the data is collected, the municipality can work with an engineer to analyze it and prioritize a list of maintenance, repairs and reconstruction needs. A roadway management program like this emphasizes cost-effective, preventative maintenance activities to prolong the life of a roadway in good condition. By making well-timed, proactive investments, the municipality can enjoy better service from the roadway at a lower lifetime cost.

The same asset management and capital improvement principles can be applied to bridges, as well. Typically, this is done at the county level since they own more bridges than municipalities, but the process is similar. When Dauphin County first embarked on its bridge management program, 1/3 of its bridges were structurally deficient. They carefully catalogued the condition of each bridge and prioritized repairs and replacement contracts. Today, they have successfully eliminated all load-posted, structurally-deficient bridges in the county. The program has been so successful it's generated a surplus of liquid fuels funding, and the county has been able to funnel that into a subsidized loan program for its municipalities to address their own infrastructure needs.
Asset management programs can be very important to municipalities looking to meet their MS4 stormwater obligations, as well – particularly if they are considering the implementation of a stormwater fee. Aging infrastructure and growing MS4 permit obligations are compelling municipalities to upgrade their stormwater systems. Though legislation allows them to charge a stormwater fee, they must be able to justify it, which means they must conduct a thorough inventory of their facilities and document the work that must be done to keep it functioning (along with cost estimates for that work). These are crucial facets of an asset management system.
What is asset management?
Asset management is a systematic approach to minimizing the cost of owning, operating, and maintaining your infrastructure at acceptable levels of service.
It is not a computer system or GIS, though these are often valuable tools employed in an asset management program for record-keeping and data analysis.
A proper asset management and capital improvement program will help a municipality identify areas where money is not being spent wisely and reallocate those funds where they can be most beneficial.
It will also help you recognize and evaluate options for keeping your assets functioning for a longer period of time, so that you don't need to invest in expensive upgrades or replacements as frequently.
It is a circular process that never ends.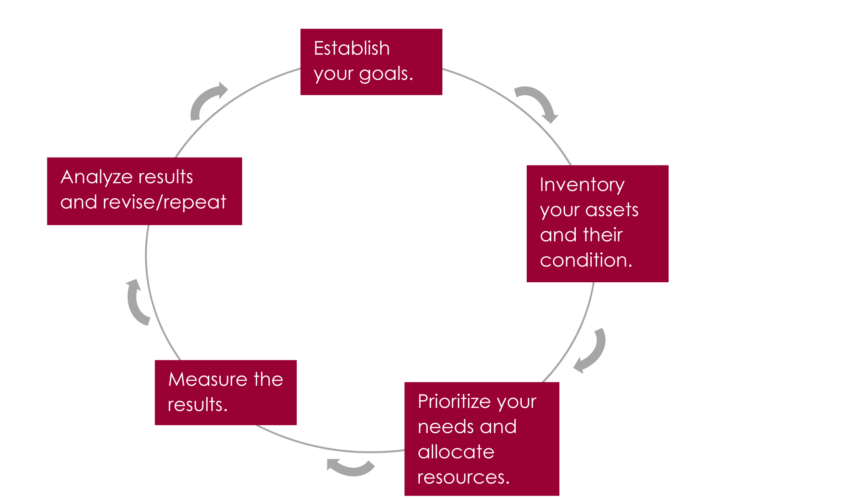 Many things change over time: the condition of your assets, regulations and the business climate you operate in, the number of users you serve, etc.  A good asset management and capital improvement program helps you plan for these changes in advance and respond proactively before they become threats to your bottom line.
What are the benefits of infrastructure asset management?
As we've already stated, an asset management and capital improvement program helps you identify exactly what maintenance and repair work is necessary without guesswork. This approach has multiple benefits:
Minimizing Risk
Knowing which infrastructure is most likely to fail (and correcting deficiencies before it does) can save you major expenses later. Knowing which failures would be the most catastrophic helps you target money toward their prevention as a first priority.
Maximizing Returns
Asset management and capital improvement planning is all about proactively investing in measures to extend the life of your infrastructure.  These small investments can extend the life of an asset by several years.
Optimizing Service and Satisfaction
Proactively maintaining your assets ensures they function at peak performance for a longer period of time and are replaced before they fail. This means your constituents receive top quality service without disruption and are happier for it. In addition, many asset management solutions include optional customer service applications that make it easier for residents and business owners to submit service requests and track them to completion.
Justifying Your Tax Rates or Fees
Rate increases are never popular, but they are easier for people to accept when they are backed up with clear data showing exactly what improvements are needed and why.
Accessing grants and loans
Competition for funding is fierce, and government agencies are under pressure to make sure the money they invest is used wisely. As a result, they're more likely to award funds to municipalities who have clear documentation of the project need, its benefits, and a plan for getting it built, operating it, and maintaining it at optimum levels over time.
Improving your worth
Many municipalities have been considering the option of leasing or selling their assets as a response to growing financial obligations in the public sector. A comprehensive asset management system provides documentation of the value of your assets, so you can ensure you are in a position to negotiate the best possible deal for you and your constituents.  Potential investors will be more comfortable making a significant investment if they fully understand the value and the risks they're assuming.
But asset management can benefit your financial picture even if leasing or selling is not on the horizon.
Under GASB standards, governments can either subtract a standard portion of their infrastructure's value each year to account for depreciation (the traditional approach), or they can regularly assess the condition of the infrastructure, invest in maintenance to keep it in good condition, and then report the amount of money they have invested in maintenance (the modified approach, which is similar in scope to a typical asset management program).  Using the modified approach, the assets don't have to depreciate in value like they would in the traditional approach.
A recent article in Governing magazine showed how investors appear to prefer trading bonds from governments that use the modified approach:
"Governments that use the modified method trade at much narrower price ranges compared to bonds from governments that depreciate. In other words, when a government uses the modified approach, investors are much more likely to agree on how to price its bonds. For governments, this can ultimately translate into lower bond interest rates."
(excerpted from "Selling Your Sewer's Story – Financial statements can make the best case for public works investors")
The truth is, you're going to have to invest in maintenance and repair anyway. If you invest in an asset management program, you can take a proactive approach to determining what maintenance is needed and then plan and budget for it in advance. This means you can target your maintenance dollars where they're needed most and make sure you have the funds available to do the work before infrastructure failure brings even greater costs to bear on your budget.
Publicly-traded companies are held accountable to their shareholders. They must demonstrate that they are making good decisions for the future health of the company and maximizing the value of the shareholders' investments. Taxpayers are coming to demand the same sort of accountability from their government, wanting proof that their tax dollars are providing a good return, as well. Municipal managers that can prove the value of their decisions will enjoy broad support of their constituents while improving the long-term financial stability of their community.
---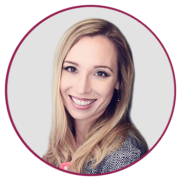 Adrienne Vicari, P.E., is the financial services practice area leader at Herbert, Rowland & Grubic, Inc., a civil engineering firm that serves local governments and authorities in Pennsylvania, Ohio, and West Virginia. Ms. Vicari has assisted numerous municipalities and water and sewer authorities with the creation of asset management programs that have created increased value and lowered costs for her clients.
http://www.hrg-inc.com/wp-content/uploads/2017/06/BoroughNews-asset-management-featured-image.png
548
733
Judy Lincoln
http://www.hrg-inc.com/wp-content/uploads/2015/04/Logo.jpg
Judy Lincoln
2017-06-02 13:06:49
2017-06-02 13:06:49
Infrastructure Asset Management: Business Principles to Maximize Government Revenue Returns