This article is excerpted from the February 2018 issue of Pennsylvania County News magazine. It is provided courtesy of the County Commissioners Association of Pennsylvania (CCAP) and is reprinted here with their permission. This is in no way an endorsement by CCAP of the products or services offered by HRG.
What would you do with an extra $350,000 per year in your county Liquid Fuels budget?
It sounds like a nice problem to have, doesn't it?
That's exactly the challenge Dauphin County faced six years ago as its aggressive bridge management program reached a very important milestone: The last load-posted, structurally deficient bridge in the county's inventory was fully programmed to be replaced.
This video tells the story of the last structurally deficient bridge in Dauphin County.  Once the county funded the replacement of this bridge, it had a surplus of Liquid Fuels money in its budget. They decided to use this surplus as seed money for an infrastructure bank that has funded more than a dozen roadway, traffic and bridge improvements throughout the county in just a few years. (Learn more about the county's last structurally deficient bridge in this profile.)
For almost 30 years, the county had patiently and strategically planned the rehabilitation or replacement of 51 bridges. Close to 1/3 of its county-wide inventory had been structurally deficient at the time they embarked on this effort in 1984.
Now that hard work and determination was about to pay off. The county could drastically reduce its spending on bridge capital improvements by shifting from a replacement phase to a maintenance phase.
The county's engineer, Herbert, Rowland & Grubic, Inc. (HRG), analyzed what investments would be necessary to proactively maintain the bridges and determined that the county would have an annual surplus of approximately $350,000 in Liquid Fuels funding beyond what was needed for maintenance expenses.
County commissioner Jeff Haste wanted to make sure the money was used wisely: "The county's bridge management program had delivered tremendous value to our residents, drastically improving the safety and efficiency of our transportation system for drivers. We wanted to use this money to deliver even more value."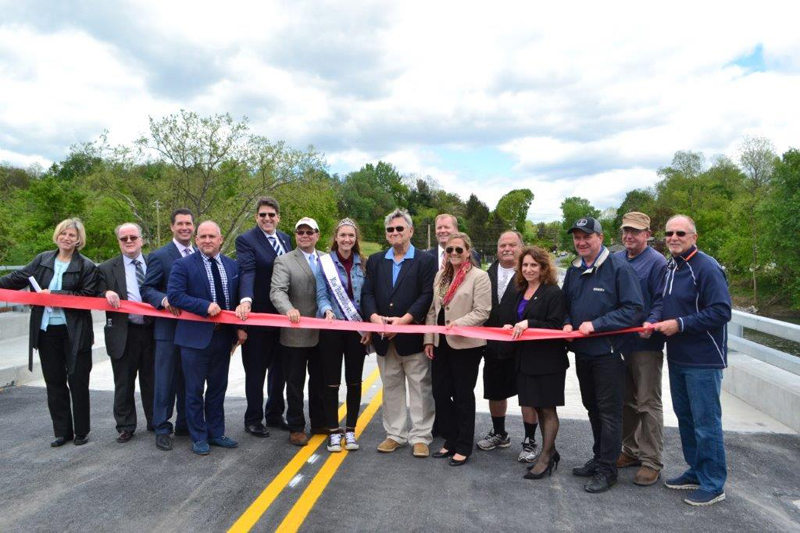 County Commissioners Haste, Pries and Hartwick wanted to maximize the benefit of these surplus dollars for county residents. The infrastructure bank approach has allowed them to fund more than $11 million in improvements with an initial investment of $1 million.
Haste and his fellow commissioners, Mike Pries and George P. Hartwick, III, were thinking big, but regulatory requirements threatened to make the impact of this money small.
"Because of the forced distribution procedure associated with Liquid Fuels funding," Haste explained, "the county had to come up with a use for this money or disburse it evenly to all 40 of our member municipalities."
On average, each municipality would've received less than $10,000, which is too small a sum to do anything more significant that buy a little extra road salt for the winter.
Yet, even if the county used the entire $350,000 surplus itself, they wouldn't be able to cover the cost of even one small capital improvement like a single-span bridge replacement (which typically costs between $500,000 to $1 million).
Haste, Pries and Hartwick wanted to have a larger impact, so they asked county staff to collaborate on a solution with the engineer who'd designed the successful bridge management program in the first place.
Together, they came up with an innovative program in which the county would use this annual Liquid Fuels surplus to dramatically reduce the cost of infrastructure improvements for local municipalities.
How the Dauphin County Infrastructure Bank Works
The Dauphin County Infrastructure Bank offers loans to municipalities (or private sector companies) to design and construct local roadway, bridge and traffic improvements – at unbeatably low interest rates. Municipalities can borrow money for as little as 0.5% interest.  (Private sector borrowers pay a 1% interest rate.)
As an added bonus, Dauphin County provides loan recipients with optional engineering design support. This is very beneficial to smaller municipalities who have never completed a large capital improvement project before and may not know how to navigate the complicated state and federal requirements these projects must meet.  An experienced consultant can save these municipalities from costly and time-consuming mistakes and re-work.
But, if $350,000 wasn't enough money for the county to complete one major capital improvement project on its own, how can it use that money to fund multiple projects by its municipalities?
The power of partnerships.
Dauphin County multiplies the value of its $350,000 investment by combining it with additional funding from Pennsylvania's state infrastructure bank.
Essentially, the county uses its Liquid Fuels surplus to make it more affordable for municipalities and private sector organizations to borrow money from the state by paying a portion of their interest. Interest on Pennsylvania Infrastructure Bank loans can vary, but it is currently 2.125% at the time this article is being written.
A municipality could borrow funds directly from the Pennsylvania Infrastructure Bank at an interest rate of just over 2%, or it could borrow from Dauphin County, and the county would pay approximately 75% of the interest expenses.
The following diagram shows exactly how the Dauphin County Infrastructure Bank funds its projects: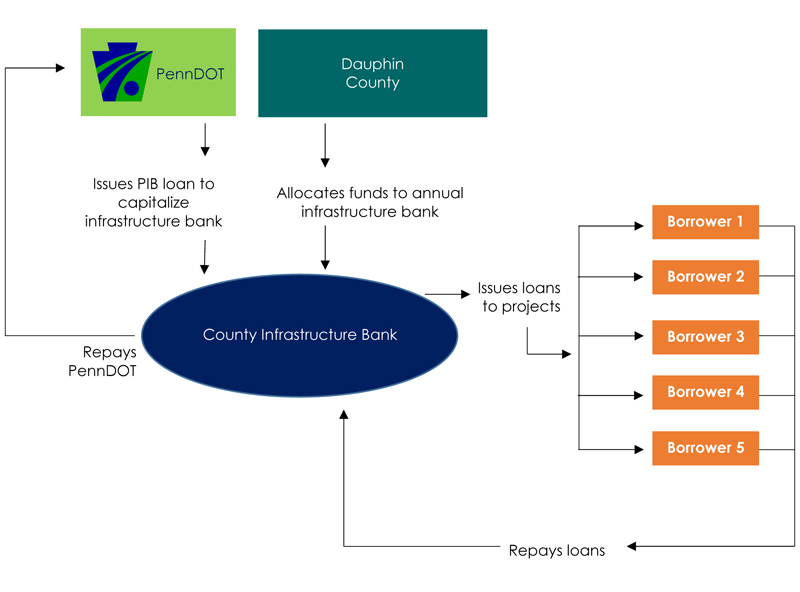 It is a self-renewing process. As municipalities or private sector organizations repay their loan to the county infrastructure bank, the county repays PennDOT.  Once the debt is satisfied, the county has the ability to issue new loans to other municipalities or private sector companies.
For some municipalities, the cost savings provided by an infrastructure bank loan can be the difference between being able to move forward with a project at all or having to postpone it a few more years.
In the first three years of the infrastructure bank program, Dauphin County multiplied close to $1 million in Liquid Fuels funding into $11 million worth of improvements to the local transportation system: 7 bridges, one traffic signal, one streetscape, and one intersection improvement.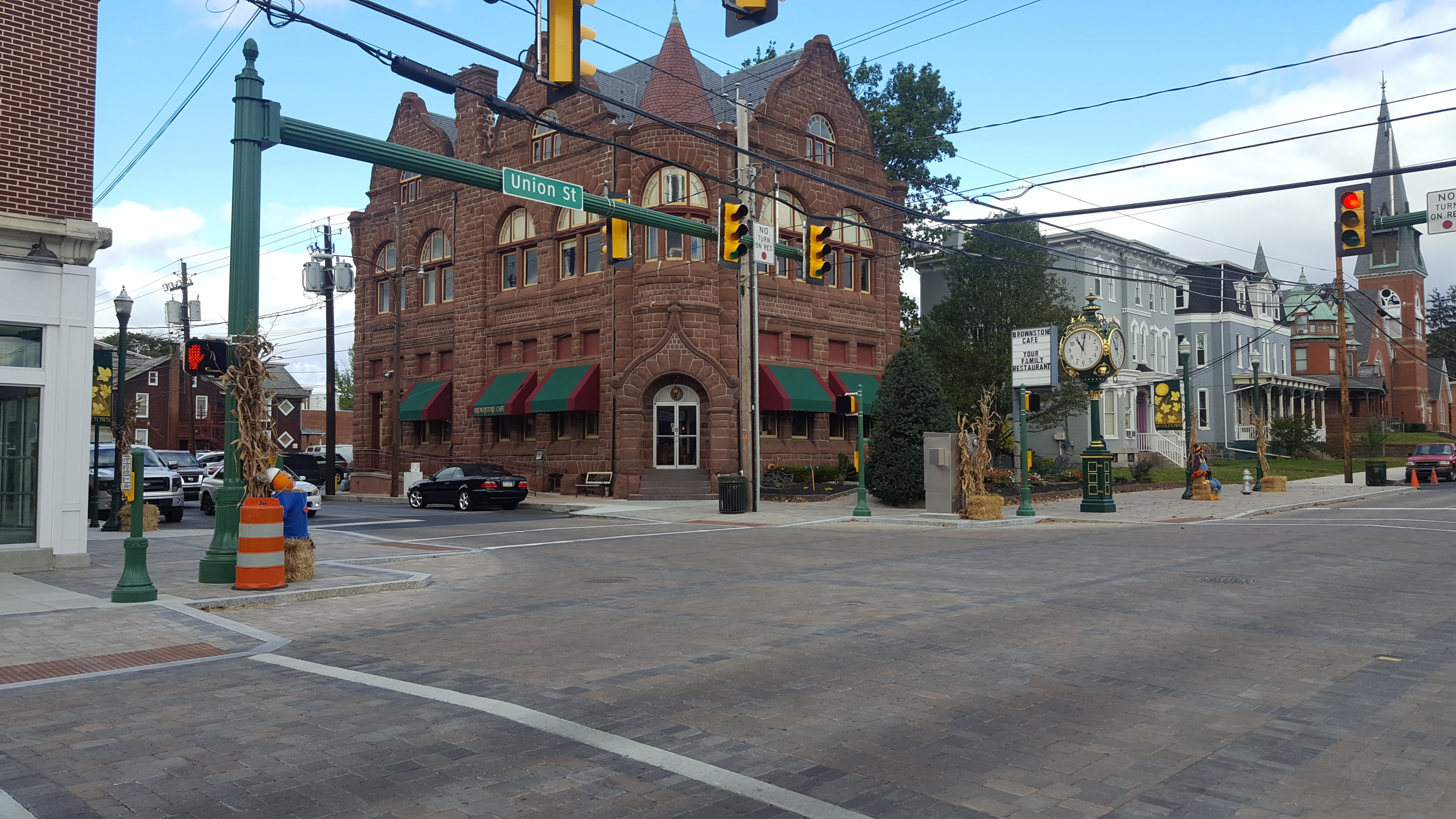 This streetscape project in Middletown Borough is one of the projects that has been funded by the Dauphin County Infrastructure Bank.  You can read more about the award-winning project and its potential economic benefit for the community in this article from The Authority.
"This is the kind of dramatic impact we were hoping to have," says Pries, who oversees Dauphin County's Community and Economic Development Department.
"The success of our bridge program and the creation of the Dauphin County Infrastructure Bank has allowed us to help residents without the need to raise property taxes. Unlike many other parts of the country, our residents don't have to worry about crumbling bridges and road networks."
Read more about the Dauphin County Infrastructure Bank, the benefits of implementing an infrastructure bank in your county, and other counties that are considering a program of their own in the February 2018 issue of Pennsylvania County News.
---
Do you want to make your community safer and encourage economic growth by investing in infrastructure? Download our guide:
County Infrastructure Banks:
Overcoming the Obstacles That Prevent Local Governments From Fixing Their Roads, Bridges, and Water Systems
It explains
• the benefits of a county infrastructure bank program
• how the program works (i.e. where the money comes from, how projects are selected, and how the projects are delivered)
Local governments want to improve their infrastructure but often don't know where to come up with the money or even how to manage projects of that size and complexity. A county infrastructure bank program solves both of these problems, making infrastructure repair a feasible reality.
Learn how to fix your infrastructure
---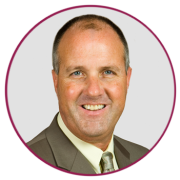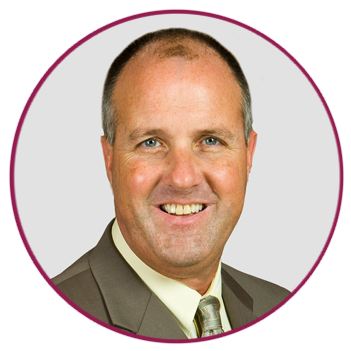 Brian Emberg, P.E., is senior vice president and chief technical officer of Herbert, Rowland & Grubic, Inc. (HRG). He helped design Dauphin County's bridge management system and worked with the county to develop the Dauphin County Infrastructure Bank. He has more than 30 years of experience designing roadways and bridges and is particularly skilled in creating unique funding solutions to help local governments accomplish their infrastructure goals with limited revenue.  You can contact Brian by phone at (717) 564-1121 or by email at bemberg@hrg-inc.com
http://www.hrg-inc.com/wp-content/uploads/2018/02/Dauphin-County-Commissioners_733x548.jpg
548
733
Judy Lincoln
http://www.hrg-inc.com/wp-content/uploads/2015/04/Logo.jpg
Judy Lincoln
2018-02-08 13:33:26
2018-02-08 13:33:26
How Dauphin County Has Turned a Small Surplus Into Major Infrastructure Improvements