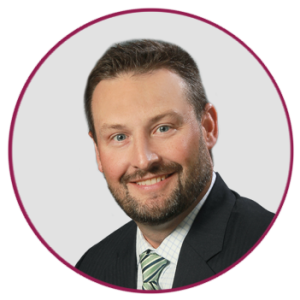 Vice President Western Region
Mr. Fralick began his career with HRG more than 20 years ago. During his tenure with the firm, he has served as a staff engineer, project manager, group manager, office manager and presently serves as the Vice President of HRG's Western Region. He has worked within all of HRG's geographic markets and provided client support from all HRG service lines during his career, providing him with a broad background of experience. He has completed the successful planning, design and management of hundreds of projects, ranging from small feasibility studies to design of complex multi-discipline projects, including water and wastewater treatment systems, commercial and institutional site developments, and municipal roadway and drainage. In his current role, he is responsible for the management and oversight of the firm's operations in all Western Region offices, including client management and new client development; project delivery; staff development and project management.
BS, Civil Engineering, Bucknell University
Registered Professional Engineer: PA
Leadership Centre County Class of 2007
Leadership Centre County Board of Directors President (2008-Present)
Foxdale Village Board of Directors (2007-2011)
Halfmoon Township Park and Recreation Board (2008-2012)
Centre Soccer – Coach
With over 20 years of progressive civil engineering experience, Mr. Fralick provides client and project management services related to facilities planning, design, and construction administration, for a variety of civil engineering project types. He serves as consulting engineer to several municipal authorities and municipalities.
In addition, Mr. Fralick has a diverse background and expertise in civil engineering practice related to the land development, water and wastewater, transportation, and municipal sectors. He is very knowledgeable of regional ordinances and regulatory requirements for development projects as well as cost-effective and aesthetically pleasing site layout and infrastructure design. He is also well-versed in environmental regulations, project financing, and construction and contract administration. In addition, Mr. Fralick has extensive expertise in the design of roadway and stormwater improvements for municipalities.
Over the years, Mr. Fralick has provided land development and site design services to a broad range of clients, including economic development agencies, retirement communities, residential developers, school districts, commercial retailers, and cellular communications companies.
He has also provided engineering services on dozens of sewer line, water treatment plant, and wastewater treatment plant projects.  In addition, Mr. Fralick serves as the municipal engineer for several townships and boroughs, designing roadway and stormwater improvements and providing general review services.