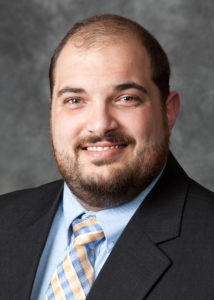 Matt Warner has been honored by XYHT magazine as one of surveying's bright young stars. He is listed as an Honorable Mention in the magazine's January cover story on the top 40 geospatial industry professionals under 40.
The feature highlights young professionals from around the world who are pushing the boundaries of the profession toward new levels of sophistication and inspiring a new generation of leaders. The list includes people from 19 countries around the world of very diverse backgrounds in private consulting firms, government agencies, and technology companies. Many of them have advanced degrees and are active in non-profit organizations that promote the profession worldwide.
Warner himself has a bachelor's degree in surveying from The Pennsylvania State University and is a member of the Pennsylvania State Geospatial Coordinating Board, an appointed commission from the governor. He is also an affiliate member of the National Society for Professional Surveyors as a member of both the New York and Pennsylvania societies of professional land surveyors. In addition, he is a member of Penn State University's industrial advisory committee for the surveying engineering program.
As the regional manager of HRG's Geomatics Service Group, Warner has amassed vast expertise in the new technologies that are yielding ever higher levels of accuracy in the profession. He has presented at numerous conferences, tradeshows, and seminars on concepts associated with improving the accuracy of GIS using sophisticated data collection methods. Through the years, he has been a strong advocate for how technology can gather the most accurate, high quality data while improving the safety of surveyors and reducing the impact of surveying on facility users (for example, limiting the closure of roads being surveyed).
"Matt Warner is definitely a leader in the surveying field and an inspiration to the many surveying professionals here at HRG," says the firm's Geomatics Service Group Director Howard Hodder. "He is committed to delivering the highest quality data for our clients and works tirelessly on their behalf. I'm so happy to see him recognized this way alongside so many other great professionals."
ABOUT XYHT MAGAZINE
XYHT is a North American publication with a global focus on geospatial positioning and the many industries it impacts. Formerly published under the name Professional Surveyor, the magazine derives its name from the coordinates that form the basis of geospatial data: x refers to left-right data points, y refers to fore-aft, H refers to up-down (or orthometric height) and t refers to time. This new name is symbolic of the changing focus of the magazine from just land surveying to all industries that rely on precise data on spatial location, including hydrography, applied geography, 3D imaging, and GNSS. (Even smart cars will rely on geospatial information identifying the centerline of the roadway and the location of buildings and other features that run alongside it.) As we move into the future of smart technology, geospatial data will be the baseline underlining it all, and XYHT magazine will be there covering its development. Learn more at www.xyht.com.
ABOUT HRG
Originally founded in 1962, Herbert, Rowland & Grubic, Inc. (HRG) has grown to be a nationally ranked Top 500 Design Firm, providing civil engineering, surveying and environmental services to public and private sector clients. The 200-person employee-owned firm currently has office locations in Pennsylvania, Ohio, and West Virginia. For more information, please visit the website at www.hrg-inc.com.
http://www.hrg-inc.com/wp-content/uploads/2017/02/Warner_733x548.png
548
733
Judy Lincoln
http://www.hrg-inc.com/wp-content/uploads/2015/04/Logo.jpg
Judy Lincoln
2017-02-01 13:59:15
2017-02-01 13:59:15
Matt Warner Honored as One of Surveying's Top Professionals