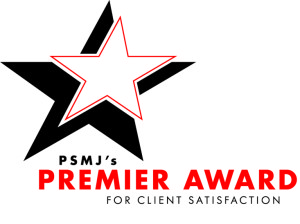 HRG recently conducted a client satisfaction survey using a third-party provider, PSMJ Resources, a leading authority, publisher, and consultant on the effective management of architecture, engineering, and construction (AEC) firms. Results from the survey were overwhelmingly positive when comparing HRG against others in the industry. Overall, 95% of survey respondents rated HRG as either meeting or exceeding expectations in areas such as helpfulness, responsiveness, quality, accuracy, schedule, budget, and scope/fees.
As a result of these high ratings, PSMJ awarded HRG the 2015 Premier Award for Client Satisfaction. The award recognizes firms that provide their clients with top quality communications, impressive performance, and cost effective solutions. Only 19 companies received the award out of more than 100 AEC firms that participated in this survey.
Kirk Stoner, Cumberland County's Director of Planning, was one of the surveyed clients, and he said:
"I would strongly recommend HRG to anyone. Their superior work quality ensures that work is done right the first time, and permitting agency reviews rarely return findings. Their customer service model is also second to none. If issues arise – day or night, weekday or weekend – HRG stands ready to assist at a moment's notice. HRG delivers the peace of mind desired by every client."
Cranberry Township Manager Jerry Andree also participated in the survey and said:
"HRG personnel work closely and seamlessly with our own in-house engineers and technical professionals.  Their understanding of our philosophy and operations are at a consistently high level.  As a result, we regard HRG as a valued contributor to Cranberry's success."
HRG's President and CEO Robert Grubic feels this award is a recognition of the hard work and expertise of the company's staff, "Our primary objective at HRG is to ensure that we're meeting the needs of our clients. Our staff works tirelessly to provide the highest quality product and meet our clients' schedule – even under the tightest timeframes.  This award and the comments from our clients in the survey are a testament to these efforts."
ABOUT HRG
Originally founded in 1962, HRG has grown to be a nationally ranked Top 500 Design Firm, providing civil engineering, surveying and environmental services to public and private sector clients. The 200-person employee-owned firm currently has office locations in Pennsylvania, Ohio, and West Virginia. For more information, please visit the website at www.hrg-inc.com
ABOUT PSMJ
PSMJ is a professional management consulting organization based in Newton, Mass., offering a range of support, training and educational services to thousands of engineering, architecture and construction firms nationwide.
http://www.hrg-inc.com/wp-content/uploads/2015/11/PremierAward_LogoREDUX.jpg
548
733
Judy Lincoln
http://www.hrg-inc.com/wp-content/uploads/2015/04/Logo.jpg
Judy Lincoln
2015-11-24 15:51:30
2015-11-30 15:05:47
HRG Receives PSMJ Premier Award for Client Satisfaction