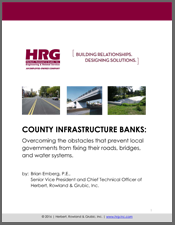 Local government officials are increasingly listing infrastructure repair and replacement as a top priority for their community.
Deteriorating roads, bridges and pipes present a safety risk and hamper economic development, but local government budgets are being besieged by rising costs and federal mandates. An innovative solution for infrastructure funding is needed to stretch public dollars further.
County Infrastructure Banks make projects more affordable for local governments and provide them with expert guidance through complicated design and construction processes.
Most municipalities struggle to find the money they need to repair or replace their infrastructure. Many also have little or no experience managing major infrastructure projects, and they can easily be overwhelmed by the complexities of the regulations and permit requirements that govern this work. This can lead to mistakes that delay the schedule or increase costs unnecessarily.
Dauphin County has found a solution to both of these problems with their award-winning Dauphin County Infrastructure Bank program.
The county created its own financing program, using a small annual surplus of $325,000 per year in Liquid Fuels money.  This small amount of money would not have been enough to fund even one single-span bridge replacement in today's construction market, but their innovative infrastructure bank program has multiplied the impact of this seed money into more than 10 projects in just three years!

The county uses this money to subsidize loans from other sources, so that their local governments and private sector recipients can receive the funding at unbeatably low interest rates.  It also manages the construction process to take advantage of economies of scale and ensure work is completed efficiently.  (Loan recipients are offered optional engineering and design support, as well.) As applicants repay their loans, the bank funds are replenished, and the cycle can begin again with new applicants, creating a self-renewing, permanent funding source.
This program has been featured on the Governing magazine website and has been honored by both the National Association of County Officials and the Pennsylvania Department of Community and Economic Development.
With an infrastructure bank program like Dauphin County's, county officials have a renewable funding source that can:
Multiply the return on a small investment: completing several projects for less than the cost of one.
Provide both funding and project delivery support to municipalities that otherwise wouldn't have the resources or staff to complete complex infrastructure improvements.
Make infrastructure more affordable by offering loans with unbeatably low interest rates to local municipalities and private firms.
Promote economic growth.
Target money to long-term, strategic planning goals for the region.
---
Learn how an infrastructure bank can make infrastructure repair easier and more affordable. Download our guide:
http://www.hrg-inc.com/wp-content/uploads/2017/05/FeaturedImage_graphic.png
630
843
Judy Lincoln
http://www.hrg-inc.com/wp-content/uploads/2015/04/Logo.jpg
Judy Lincoln
2016-04-20 16:58:24
2017-05-30 17:01:30
GUIDE: How Infrastructure Banks Alleviate the Obstacles to Local Infrastructure Repair