by: Matthew Bonanno, P.E., and Albert Brulo, P.E.
This article is provided courtesy of Pennsylvania County News, a publication of the County Commissioners Association of Pennsylvania. It was published in the September 2009 issue and is reprinted here with CCAP's permission but is in no way an endorsement by CCAP of the products or services offered by HRG.
As the character of stormwater management changes in Pennsylvania, communities are searching for ways to fund their stormwater programs. What are the implications you should consider?
Stormwater management is changing in Pennsylvania – from an emphasis on flood control to one on water quality. Act 167, in particular, has called for greater accountability through improved stormwater management plans. It is no longer enough to simply capture stormwater runoff and convey it unmanaged to the nearest receiving stream. State and federal agencies are now promoting the use of infiltration technologies to mimic the way stormwater was absorbed into groundwater prior to development, and the use of best management practices to filter out pollutants in order to keep our waterways clean.
As a result, the stormwater policies and regulations of many local governments across Pennsylvania are no longer sufficient. While counties and municipalities are eager to comply with tighter environmental requirements, they find that the methods they have used in the past to finance stormwater programs are not adequate enough to meet these increased demands.
Traditionally, local governments have funded their stormwater programs with tax revenue from capital improvement budgets. However, the infrastructure needs of most communities outpace their tax revenue, and stormwater improvements are typically passed over for projects that appear more dire or that have a much higher public profile (like bridge replacements).
If capital improvement budgets are not enough to fund stormwater programs, what options do governments have and what are the advantages and disadvantages of each?
Taxes:
Communities could impose a stormwater tax based on property value; however, new or increased taxes are politically unpopular and this option is the least equitable of those available. Property owners with little or no impervious land cover and low-intensity land usage could pay the same as users with more impervious cover. Thus people who contribute little to the community's stormwater issues would shoulder an unfair portion of the costs. Also, tax-exempt entities like schools would not be held accountable for the stormwater impact they cause.
Stormwater User Fees, Enterprise Funds, Utilities and Authorities:
A more equitable approach would be the creation of a stormwater user fee. Some larger municipalities in Pennsylvania are already charging a stormwater fee as part of the standard utility bill. Under this system, property owners may be charged a fee based on their contribution to stormwater (as calculated by the size of the parcel or its amount of impervious cover). Local governments can collect these fees and dedicate the fees to an enterprise fund, or a regional stormwater authority can collect and distribute the funds.
Stormwater authorities have, in fact, been the subject of much debate in recent years among the stormwater management community. While they are largely untested in Pennsylvania, they have been used in more than 500 communities across the United States since their first appearance in the 1970s.
Public opposition could be a challenge. While people have come to accept fees for water and sewer service, they often do not see how they directly benefit from stormwater management programs and may oppose paying a fee for such services. In addition, some communities have expressed concern that establishing a stormwater authority and the associated fees may increase public expectations that flooding and other problems will be eliminated beyond what a community may be able to deliver. Educating the public and managing its expectations are definitely key to any effort to create a stormwater authority.
If these obstacles can be overcome, a stormwater authority has several advantages. As a dedicated source of funding – one which cannot be allocated to other activities as general fund tax revenue can – it would provide a stable and reliable flow of money. This would, in turn, make the program more secure long-term and provide a buffer against changing political winds.
In addition, a stormwater user fee could be calculated more fairly than a general tax. Property owners would pay according to their use (i.e., their contribution of stormwater runoff) rather than based on property value assessments. It would ensure that tax-exempt properties like schools and churches – which often feature a great deal of contributing impervious area – would pay their fair share, rather than being exempt under current property tax law.) Even better, a fee based on impervious area would encourage property owners to use innovative designs that limit impervious area on their properties or to provide best management practices to treat their contributing runoff.
---
Do you want to learn more about how a stormwater utility could fund your stormwater program? Download our guide:
Determining If a Stormwater Utility Is Right for Your Community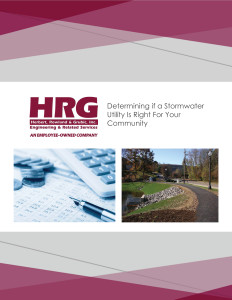 It includes
• Answers to common questions about stormwater utilities
• Advice for how to build public consensus for stormwater fees
• An outline of the early steps you should take when investigating the feasibility of a stormwater utility
Download the guide at
www.hrg-inc.com/stormwater-utility-guide
---
Development Fees:
As a supplement to a user fee system or tax, communities may consider imposing fees on developers to compensate the community for the stormwater costs it incurs as a result of their development. Examples include development fees, inspection fees, plan review fees, impact fees and penalty fees (for illicit discharges).
While regulatory fees and penalty fees are a worthy consideration for any stormwater financing program, they will not provide enough money to fund the entire program. Most likely, they will only cover the cost of regulatory activities and not the design and construction of infrastructure. Therefore, they should be seen as a part of a larger financing program, rather than the entire solution.
Grants:
For specific projects (such as a planning initiative, the creation or revision of an Act 167 Plan, an education program, or the design and construction of infrastructure), grants and low-interest loan programs could be a good source of funding. They are not, however, enough to fully sustain an ongoing stormwater management program.
Many grant opportunities are well-known, such as the Department of Environmental Protection's Growing Greener program or PENNVEST, its grant program to support the creation or revision of stormwater management programs. There are also other lesser known options from non-profit organizations like the William Penn Foundation (which serves the Greater Philadelphia area), the Canaan Valley Institute and the Pennsylvania League of Women Voters (which funds education programs). Several of the funding programs offered by the Department of Community and Economic Development can be used to support stormwater initiatives. These include the Pennsylvania Infrastructure Bank, the Community Development Block Grant Program, the Urban Development Program and the Local Municipal Resources and Development Program. Rural communities may also find support from the U.S. Department of Agriculture's Rural Development Program.
With so many financing options to consider and the complexities involved in creating such programs or applying for grants and loans, communities can greatly benefit from working with a professional who is well-versed in both stormwater management and financing. A consulting firm that offers dual expertise in stormwater program requirements and available funding mechanisms can provide one-stop service: helping you create sustainable and cost-effective projects while also helping you obtain the funding you need to make them a reality. As the face of stormwater management in Pennsylvania grows increasingly complex, a knowledgeable partner can provide real value to a community's bottom line for years to come.
---
Matthew Bonanno, P.E., is the civil services practice area leader at HRG. He has assisted numerous counties throughout Pennsylvania with their stormwater management programs, including the creation and revision of Act 167 Plans and the design of infrastructure improvements.  Albert Brulo, P.E., is a senior civil project manager at HRG. He has authored publications and presentations on stormwater, NPDES regulations, and floodplains, and worked closely with the Pennsylvania Department of Environmental Protection on the statewide BMP manual.
http://www.hrg-inc.com/wp-content/uploads/2015/10/6-e1441026237871.jpg
549
732
Jared Kroh
http://www.hrg-inc.com/wp-content/uploads/2015/04/Logo.jpg
Jared Kroh
2014-10-05 18:01:07
2017-02-01 15:48:52
Grants, Loans, and Other Sources of Stormwater Funding