The Department of Environmental Protection has published a draft of the proposed MS4 General Permit for stormwater discharges (a.k.a. PAG-13) that will take effect in March 2018.  Here's what you need to know if your municipality operates under an MS4 General Permit:
MS4s will be required to implement Pollution Control Measures for any discharges to impaired waters – regardless of whether that water has an established TMDL. The 2018 General Permit will include appendices that list approved strategies to identify and control the loading of such pollutants as nutrients (like nitrogen and phosphorus), sediment, metals, bacteria, or priority organic compounds like PCBs or pesticides. These measures go above and beyond the MCMs contained in the standard permit. Any MS4 that has at least one outfall that discharges one of these substances (directly or indirectly) to an impaired water must comply with these measures.
The Pollutant Reduction Plan requirement has been extended to a wider group of MS4s. Under the 2013 General Permit, Pollutant Reduction Plans (PRPs) were required for MS4s that discharged to waters within the Chesapeake Bay Watershed, but in 2018 this requirement will apply to all waters across the state that are impaired by nutrient or sediment loadings and do not have a TMDL (or an assigned wasteload allocation within a TMDL watershed). To see if the new Pollutant Reduction Plan requirement applies to your MS4, check this table provided by DEP.
Any MS4 that discharges to a nutrient- or sediment-impaired water with an established TMDL will be required to apply for an Individual Permit. The General Permit will no longer be approved for these MS4s.
Annual reports are now required for all permittees, but Notice of Intent renewal applications are no longer necessary (unless specifically requested by DEP). Under the 2013 General Permit, MS4s were required to submit progress reports only following years one and three of their 5-year term unless they were a first-time permittee or they discharged to waters within the Chesapeake Bay Watershed (in which case they had to submit reports annually). Under the 2018 permit, all permittees will be required to submit progress reports on an annual basis; in addition, the deadline for these reports will no longer be tied to the date the MS4's permit coverage was approved. All MS4s will submit their annual reports by September 30 based on activities performed between July 1 of the previous calendar year and June 30 of the current calendar year. While this increases the reporting burden slightly, MS4s will no longer have to submit the five-year Notice of Intent renewal application because the annual report will constitute a renewal of the permit coverage. (DEP reserves the right to request a Notice of Intent renewal application, if necessary.)
The list of authorized non-stormwater discharges has been updated. Non-contaminated water from geothermal systems is now an authorized discharge, and so is water from residential (not commercial) car washing – as long as cleaning agents are not used. However, dechlorinated swimming pool discharges will no longer be included on the list and will have to be discharged to a sanitary sewer, not storm.
MS4s are expected to comply with the latest version of the General Permit as soon as it takes effect: even if they have not received their approval notice yet. The 2013 permit expires on March 15, 2018. Effective March 16, all MS4s operating under a General Permit must comply with the requirements of the 2018 permit – even if they haven't received their approval notice yet. However, some permit requirements do not take effect until that approval notice is received such as the submission of new or updated ordinances and the Pollutant Control Measure and Pollutant Reduction Plan requirements discussed above.
This is a key change because the elimination of an NOI renewal process means that no formal application process is anticipated for future updates to the General Permit; however, MS4s will be expected to comply with any changes contained in those updates as soon as the permit comes into effect. Since this draft of the 2018 permit is still up for public comment, some engineers are asking if and how MS4s will be notified of General Permit updates.
If an MS4 fails to comply with the General Permit, DEP may require the MS4 to apply for an Individual Permit instead. The Individual Permit is generally associated with stronger regulatory control and bigger penalties for non-compliance.
A public comment period is required whenever a plan is updated or submitted to DEP; MS4s must plan accordingly in their schedule. Previously, public participation was not required when an MS4 submitted a TMDL or Pollutant Reduction Plan, but it will be required under the 2018 permit prior to submission of the plan.
MS4s must post all plans, programs, maps and reports they develop to their website for the public to see. If they cannot post these documents to the web, they must make them available to the public at the permittee's office between regular business hours.
MS4s are now required to submit a written agreement between them and their county conservation district if they are relying on the Chapter 102 program for stormwater associated with construction. County conservation districts frequently perform Chapter 102 duties for DEP, but these duties vary by county; therefore, an MS4 cannot assume that its county performs all the activities required by the Chapter 102 program. Instead, they must coordinate with the district directly and provide a written agreement to DEP that clarifies the roles the county and the MS4 will perform with regard to construction and post-construction stormwater management.
MS4s will be required to have full access rights to all stormwater structures covered under this permit – even if they are located on private property. Some municipality's may be compelled to enter legal proceedings to negotiate easements or other legal agreements to ensure they have full access to ensure the satisfactory construction, operation, maintenance, and replacements of these structures.
Now that pollution from point sources such as industry and water and wastewater treatment plants has been effectively reduced, regulators are increasingly turning their attention to non-point sources like urban stormwater runoff, which is now one of the biggest sources of water pollution alongside agricultural runoff and acid mine drainage.
As a result, the requirements to reduce the pollutant loading of stormwater discharges will continue to increase, and regulatory agencies will offer less and less leeway in meeting these requirements. As DEP states in this draft 2018 permit, "The permittee shall develop and maintain adequate legal authorities and shall maintain adequate funding and staffing to implement this General Permit."
As of right now, these changes are only proposed. If you have questions about how the 2018 General Permit will impact your MS4, please contact Erin Letavic.
---
As MS4 permit requirements continue to increase, many municipalities are wondering where they will get the funding to meet these requirements.  A stormwater user fee program is one option to consider, and HRG can help you decide if it's the right choice for your municipality.  Download our guide:
Determining If a Stormwater Utility Is Right for Your Community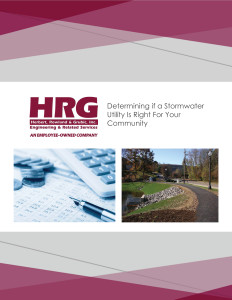 It includes
• Answers to common questions about stormwater utilities
• Advice for how to build public consensus for stormwater fees
• An outline of the early steps you should take when investigating the feasibility of a stormwater utility
Download the guide at
www.hrg-inc.com/stormwater-utility-guide
---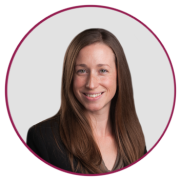 Erin Letavic, P.E. is a project manager in HRG's Civil Group.  She helps municipalities throughout Central Pennsylvania manage their stormwater permits and assists with various other municipal engineering tasks such as zoning and subdivision and land development plan reviews.
http://www.hrg-inc.com/wp-content/uploads/2015/07/Derry-Township_960x639-e1440165758391.jpg
638
732
Judy Lincoln
http://www.hrg-inc.com/wp-content/uploads/2015/04/Logo.jpg
Judy Lincoln
2015-07-22 13:59:07
2016-07-22 11:44:51
DEP's Proposed Changes to MS4 Permit for Stormwater Discharges