This article is an excerpt from the December 2017 issue of The Authority, a magazine produced by the Pennsylvania Municipal Authorities Association (PMAA). It is the second in a series of 3 articles about an innovative approach to stormwater management and MS4 compliance being pioneered by 31 municipalities and the Wyoming Valley Sanitary Authority.  You can read the first article here: How Municipalities in the Wyoming Valley Are Cutting Stormwater Costs by Up to 90% )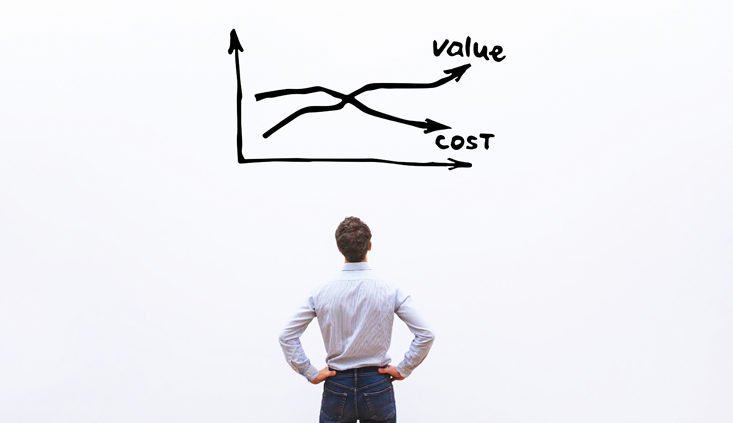 Thirty-one municipalities in Luzerne County are piloting a regional approach to MS4 compliance that may revolutionize the way Pennsylvania responds to the growing challenges posed by stormwater.
They have signed cooperative agreements with the Wyoming Valley Sanitary Authority, which will serve as MS4 permit coordinator for the entire region. In our previous post, we discussed the many ways a regional partnership can lower the cost of stormwater management for municipalities.
In this post, we'll discuss how:
Cooperation benefits the taxpayer.
If regional cooperation lowers the cost of stormwater management, it stands to reason those cost savings will be passed on to the taxpayer. But, make no mistake, replacing aging infrastructure and constructing Best Management Practices will cost money, and that money will have to come from somewhere.
With municipal budgets already stretched to the limit, communities may have to consider new revenue sources. That could mean a tax increase or a stormwater fee.
Stormwater fees are generally a better deal for the average constituent. This is because a fee structure ensures everyone pays their fair share.
If taxes were raised to cover the cost of stormwater management, many property owners with large amounts of impervious area would be exempt: hospitals, schools, and other non-profit institutions. However, these institutions can sometimes be the biggest contributors to a community's stormwater issues because stormwater runoff occurs when the water runs along impervious surfaces and cannot infiltrate the ground.
If stormwater management is paid for through a property tax increase, these non-profit organizations won't pay for the services they're using, but someone will have to, and that burden will fall on homeowners and small businesses.
Studies show time and again that the average homeowner would pay less for stormwater management if he or she were charged a stormwater fee than if the municipality raised property taxes.
The regional cooperation being pioneered by the Wyoming Valley Sanitary Authority is an especially good deal for local taxpayers: Our analysis showed that the average residential property owner will save 70 – 93% by paying a regional stormwater fee instead of paying an increased property tax.
The Wyoming Valley Sanitary Authority's estimated stormwater fee is between $3.00 and $4.50 per month. This is lower than the other stormwater fees currently being paid throughout Pennsylvania, which average between $6.50 and $8.50 per month.
By using a regional approach, WVSA is able to lower costs beyond what an individual municipal authority could likely achieve. These numbers are even more impressive when you consider that the fees for most of the other municipal authorities included in the average above were calculated before taking 2018 MS4 permit requirements into account. Therefore, those communities may actually have to raise fees higher to meet the stricter requirements coming in the next permit cycle.  WVSA's estimated cost already accounts for the 2018 permit requirements.
Municipal leaders are stewards of the public's money, but they are also stewards of the environment. In our next post, we'll discuss how regional cooperation on stormwater management can more effectively keep our rivers and streams clean for drinking, agriculture, and recreation.
---
Do you want to learn more about how stormwater fees provide the best value for taxpayers? Download our guide:
Determining If a Stormwater Utility Is Right for Your Community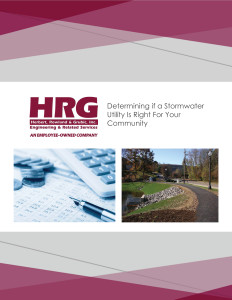 It includes
• Answers to common questions about stormwater utilities
• More advice for how to build public consensus for stormwater fees
• An outline of the early steps you should take when investigating the feasibility of a stormwater utility
---
Jim Tomaine has more than 30 years of engineering experience. He holds a bachelor's degree in civil engineering from The Pennsylvania State University and a master's degree in business administration from Wilkes University. He is the executive director of the Wyoming Valley Sanitary Authority and has been at WVSA for twenty seven years.  Prior to the WVSA, Mr. Tomaine worked in the private sector as a design engineer. He currently holds his A-1 Wastewater Treatment Plant Operators Certification in Pennsylvania and is also a registered professional engineer.
Adrienne Vicari is the financial services practice area leader at Herbert, Rowland & Grubic, Inc. (HRG). In this role, she has helped the firm provide strategic financial planning and grant administration services to numerous municipal and municipal authority clients. She is also serving as project manager for several projects involving the creation of stormwater authorities or the addition of stormwater to the charter of existing authorities throughout Pennsylvania.
http://www.hrg-inc.com/wp-content/uploads/2018/02/02_featured-photo.jpg
548
733
Judy Lincoln
http://www.hrg-inc.com/wp-content/uploads/2015/04/Logo.jpg
Judy Lincoln
2018-02-20 15:44:16
2018-02-20 15:44:16
Regional Stormwater Plan to Save Taxpayers Money in Luzerne County