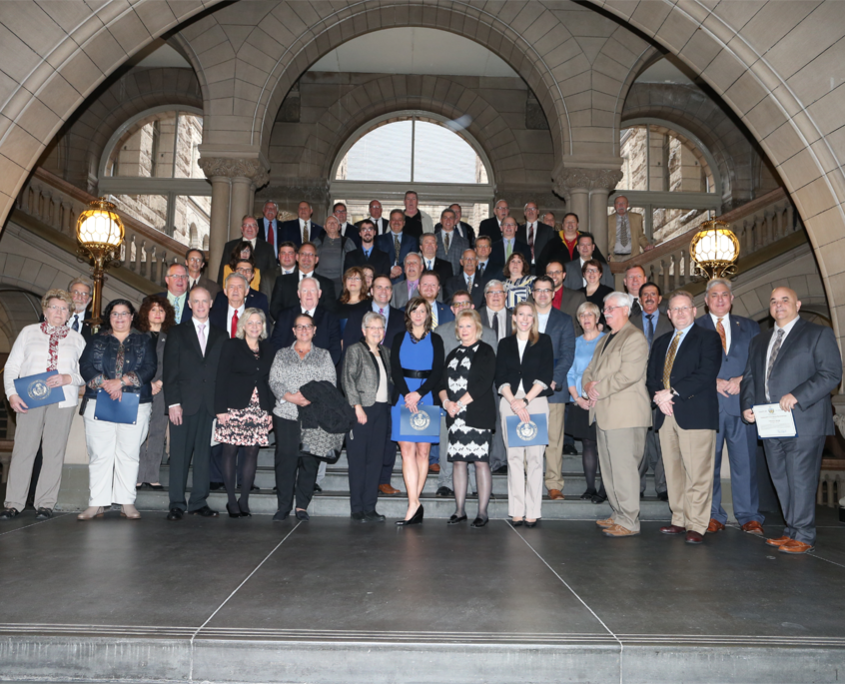 Photo courtesy of the Allegheny League of Municipalities. View more photos from the Banner Communities luncheon on their website.
Herbert, Rowland & Grubic, Inc. (HRG) congratulates all of the local governments being honored this month as Banner Communities by the Allegheny League of Municipalities (ALOM). The firm is proud to sponsor the Banner Communities program in order to recognize local governments who excel at providing effective and efficient public services to their constituents.
HRG and the Allegheny League of Municipalities share a common mission of "helping public servants make their communities better."
The league was formed in 1963 as part of an effort by county commissioners to help local officials gain a regional perspective of the issues they face and foster cooperation. An early goal of the organization was to coordinate the efforts of Allegheny County's 130 municipalities in order to achieve maximum efficiency.
HRG also promotes intergovernmental cooperation as a way to help local governments reduce costs and provide more effective solutions to issues that extend beyond local government borders. We have spearheaded numerous cooperative initiatives between local governments for transportation corridor planning, water and wastewater treatment, and more.  Today, we are helping to lead the charge for county-wide cost-sharing and financing of stormwater management through the formation of regional stormwater authorities.
The Banner Communities Program was started by the Allegheny League of Municipalities in 2013. Applicants are judged on their commitment to five core values of good government: transparency, accountability, communication, fiscal responsibility, and continuing education of its staff.
A total of 51 municipalities have been inducted into the program since its inception. This year's first-time honorees are Bellevue Borough, Elizabeth Township, Jefferson Hills, Monroeville, and Swissvale.  Municipal officials from each of these communities were honored at an exclusive luncheon with Allegheny County officials on March 31 and a banquet on the final night of ALOM's Spring Conference, April 8, 2017.
HRG has been a sponsor of the Banner Communities program since June 2016. Thanks, in part, to the firm's sponsorship, ALOM is offering scholarships to one elected official from each of the following communities to cover the cost of attending ALOM's Spring Conference in 2018: Bellevue Borough, Indiana Township, Kilbuck Township, Pine Township, and Monroeville.
"We're honored to work with ALOM on the Banner Communities program," says Jason Fralick, HRG's western region vice president. "We've been helping municipal officials build great communities for more than 50 years, so we know the dedication local officials have to their jobs and their constituents very well. We're happy to be part of this program, which shines a light on the best work municipalities are doing around the region."
Learn more about the Banner Communities program on the Allegheny League of Municipalities website.
ABOUT HRG
Originally founded in 1962, HRG has grown to be a nationally ranked Top 500 Design Firm, providing civil engineering, surveying and environmental services to public and private sector clients. The 200-person employee-owned firm currently has office locations in Pennsylvania, Ohio, and West Virginia. For more information, please visit the website at www.hrg-inc.com.
ABOUT THE ALLEGHENY LEAGUE OF MUNICIPALITIES
The Allegheny League of Municipalities is a 501(c)6 nonprofit organization that emerged in the early 1960s as a result of the need to establish an entity to coordinate the needs of the area's local elected officials. It was officially established as the Allegheny League of Municipalities (ALOM) in 1974. The mission of the Allegheny League of Municipalities (ALOM) is to support local government in Allegheny County and Southwestern Pennsylvania by educating elected officials, delivering essential resources, and advocating for sound policy and legislation.
http://www.hrg-inc.com/wp-content/uploads/2017/04/ALOM_733x548.png
685
916
Judy Lincoln
http://www.hrg-inc.com/wp-content/uploads/2015/04/Logo.jpg
Judy Lincoln
2017-04-11 14:15:11
2017-10-28 22:20:43
HRG Sponsors Recognition Program for Pittsburgh Area Municipalities