Learn more about:
the specific deadlines associated with the 2018 MS4 permit application,
how to apply for a waiver from the new Pollution Reduction Plan requirements,
what details must be added to the 2018 mapping, and
how municipalities can collaborate with others to improve the effectiveness (and reduce the cost) of their MS4 program.

The 2018 MS4 permit cycle may seem far away, but the time to start preparing your permit application is now. Submission deadlines for portions of the application process begin as early as this December, and the final deadline for submission of your permit application is next September (2017).
If your municipality is one of the many subject to a new permit, new waiver, or new Pollutant Reduction Plan or TMDL requirements, you will need plenty of time and resources to produce the required documentation for your application.
Start now: the first submission deadline is just 3 months away.
As described in our previous post on the 2018 MS4 permit requirements, the new permit cycle adds requirements for Pollution Reduction Plans and TMDLs for many municipalities.  But it is possible for some of these municipalities to skip the submission of a Pollutant Reduction Plan altogether.
Municipalities may be eligible for a waiver from submitting a Pollution Reduction Plan if:
Their population size is small enough. (i.e. They have less than 1,000 people in their urban area or less than 10,000 in their entire municipality.) AND
They can show that none of their outfalls discharge to a locally impaired water OR
They discharge to impaired water, but DEP determines that they are not contributing to the impairment.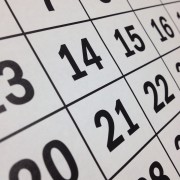 If you think your municipality might be eligible for a waiver, you will need to submit an advanced waiver request by December 31, 2016 at the latest. (In order to have time to review all applications thoroughly, DEP is requesting that you submit your applications even earlier, if possible.)
Mapping and paperwork are required for a waiver request, so you will need time to work with a consultant or government agency with GIS support staff to develop these materials.
Preparing an Advanced Waiver Request
Waiver requests must include:
A detailed map of the MS4, which includes all outfalls, storm sewers, surface waters, land uses, and any connections to other MS4s.
An outline of the drainage area for each outfall that discharges to impaired waters.
A written explanation of why your waiver is justified.
There is no application fee for an advanced waiver request. If your waiver is granted, you must include two copies of it with your completed permit application in September 2017.
NOTE: You must submit your waiver request by December 31 to avoid submitting a Pollutant Reduction Plan. Even if you qualify for the waiver, you will have to submit the plan if you didn't apply for an advanced waiver by December 31 in case, upon review, a General Permit is actually issued by DEP.
Even if the advanced waiver deadline does not apply to your municipality, it is still imperative to begin planning for your 2018 permit cycle now. The pollutant reduction plans for the permit application are due next September, but the plan(s) must be completed and posted for public comment at least 45 days in advance, which is less than a year away.
Review/complete/update your map: New information is required.
MS4 permit requirements are moving from a qualitative approach to a quantitative approach: Instead of just implementing BMPs in a good faith effort to improve stormwater quality, municipalities are increasingly being asked to determine the exact nature of their discharge and specifically demonstrate how they are reducing the quantity and concentration of pollutants. Good mapping is essential to this task because you cannot eliminate illicit discharges if you do not know where they originate.
Accordingly, DEP has clarified what permittees must map and submit with the 2018 permit application. This includes:
 The location of privately owned storm sewers and other government-agency-owned facilities that connect to the municipal system.
 A delineation of the storm sewershed for each stormwater outfall.
What is a storm sewershed?
It is the entire land area that drains to a particular regulated MS4 outfall. (Outfalls are any discernible, confined conveyance of stormwater that discharges to surface waters. This includes pipes, ditches, channels, etc.)
Why are storm sewersheds relevant?
Municipalities subject to Pollutant Control Planning are required to develop an inventory of pollutant sources within their MS4. The storm sewershed will define the areas to be investigated in order to identify and investigate potential pollutant sources.
Municipalities with Pollution Reduction Plan requirements have specific goals for reducing their pollutant contributions. The storm sewersheds will minimize the planning area for existing base loads, and identify locations of BMPs that will provide the necessary pollutant reduction in those areas. (Municipalities with Pollutant Reduction Plan requirements include Chesapeake Bay watershed contributors, municipalities with watershed impairments attributed to nutrients and/or sediment, and TMDLs.)
In the current PAG-13, municipalities are expected to ensure the proper operation of all stormwater facilities within their MS4 (even privately owned facilities), some of which are not accessible (feasibly, legally, etc.). For this reason, DEP will now accept observation points on the mapping which indicate where municipal staff can inspect facilities that are not accessible due to safety or legal concerns.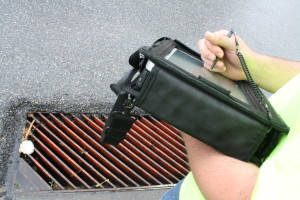 For existing permittees, the 2018 mapping should include:
Municipal boundary lines.
2010 Urbanized Area.
The location of all regulated outfalls – even those that are privately owned but connect to the public system. (Each outfall should be numbered for reference and should include observation point locations, where applicable.)
Surface waters that receive drainage from the MS4.
The entire storm sewer collection system that is owned or operated by the permittee including roads, inlets/catch basins, piping, swales/channels, and storm sewersheds.
The purpose of this map is to track illicit discharges and map storm sewersheds for pollutant reduction planning. While digital mapping functions best for suburban municipalities and cities, boroughs may exist at a scale where less sophisticated mapping techniques may be more cost efficient and equally effective.
Consider the value of working with others:
Stormwater does not recognize municipal boundaries. It continues to flow down slope, regardless of where the borders of an MS4 regulated area may lie.  But a municipality working on its own can only manage that stormwater as it flows through its boundaries.  With the new emphasis DEP is placing on pollutant reduction, municipalities may need to work together with their neighbors in order to meet their regulatory obligations.
Recognizing this, DEP is strongly encouraging collaboration in the 2018 permit cycle and in statewide training sessions provided in 2016.
The language of the permit instructions specifically addresses the formation of regional stormwater authorities:
"If a regional authority is created to administer stormwater management programs throughout multiple municipalities, the authority may apply on behalf of its municipalities using a single [form]. If DEP approves the [form], the permit will be issued in the name of the regional stormwater authority."
DEP recognizes that collaboration between municipalities requires an agreement, which clearly outlines the rights and responsibilities of each member. The formation of a stormwater authority is an effective means of forming this agreement, but many municipalities have historically questioned who would be responsible for permit compliance: the municipality or the authority.
By clearly stating that the permit responsibility will be issued to the authority, DEP eliminates this concern, clearing the path for authorities to form. This makes it possible for multiple municipalities to truly share responsibility equitably.
DEP suggests working with local sportsmen's groups, environmental groups, colleges, and others on public education efforts required by MCMs 1 and 2 and long-term implementation of BMP installation.
Such collaboration is already occurring in some areas. For example:
The Paxton Creek Watershed Education Association, Manada Conservancy, and Penn State Extension have extended their services to municipalities for educational workshops on rain gardens, rain barrels, stream buffers, etc.
Lower Swatara, Middletown Borough, Royalton Borough, and Conewago Township have partnered together to identify similar stormwater program issues, opportunities for collaboration, and a funding plan to realize achievable goals. This effort is being fundedthrough a grant received by the Alliance for the Bay.
DEP encourages municipalities to check with their county government and other entities for mapping data. Many counties have mapping available that could provide a foundation for the MS4 mapping the permit requires.  Other sources for mapping layers include DEP, USGS, and the US Census Bureau.  (Note that these entities can provide general basemap-type layers, but municipalities will still most likely need to supplement this with specific data about their stormwater infrastructure.)
Municipalities can also work with their local sanitary sewer authority.
Some sewer authorities have pretreatment requirements for businesses that discharge sewage with contaminants that cannot be treated by the sewage plant. If a property like this has pretreatment requirements for its sewage, there is a chance its stormwater runoff may also be contaminated. If the sewer authority shared its list of businesses subject to pretreatment requirements with the municipality, it could help municipal staff identify potential pollutant sources (a new requirement associated with Pollution Control Measures and Pollutant Reduction Plans).
DEP continues to encourage cooperation with the county conservation district on construction and post-construction stormwater management plans.Many municipalities have been working with their county conservation district on this for several permit cycles.
In general, the paperwork associated with construction and post-construction stormwater management is now understood to be subject to Chapter 102 regulations. If those regulations are delegated to the conservation district, the municipality will not have to track anything for MCM 4 under its MS4 program.  (Illicit discharges will still be handled on a case-by-case basis, but they would likely be addressed under Chapter 102.)  BMP operation and maintenance continues to be a long-term responsibility for municipalities to track, but not necessarily perform, specifically.

In Summary, Get Ready
The Commonwealth of Pennsylvania must meet federal water quality goals, and MS4 permittees are one piece of the overall watershed improvement plan. Wastewater improvements have been invested in for decades, agricultural accountability continues to improve, and urban stormwater (until proven to not be part of the water quality "problem") continues to be a regulatory target.
The 2018 permit will require municipalities to more closely identify pollutant sources and begin mitigating them. New MS4s will have a steep learning curve, depending on their impaired watershed status and proximity to the Chesapeake Bay.  This is over and above the job of getting acquainted with the new acronyms they need to "speak" and other permit obligations to perform.
The new permit application requires existing MS4s to complete their maps (if not completed to date) and requires many MS4s to create and publicly vet Pollutant Reduction Plans. It will take time to compile this information, so municipalities should begin preparing their 2018 permit application components now.
Some municipalities may be able to obtain a waiver that eliminates the Planning requirement, but they should preliminarily apply for that waiver before December 31, 2016.
Collaboration with other municipalities, the county, and local community groups can help a municipality meet the more stringent requirements of the 2018 permit cycle. DEP encourages this collaboration but does not require it.  Still, the language of the 2018 permit cycle specifically clears a path for collaboration by allowing regional authorities and less rigid coalitions to assume ownership of the MS4 permit obligations.  Local governments can stretch their tax dollars if they think less locally.
If you have questions about the 2018 MS4 permit requirements and pollutant reduction planning, please contact Erin Letavic.
---
As MS4 permit requirements continue to increase, many municipalities are wondering where they will find the funding to meet these requirements. A stormwater user fee program is one option to consider, and HRG can help you decide if it is the right choice for your municipality. Download our guide:
Determining If a Stormwater Utility Is Right for Your Community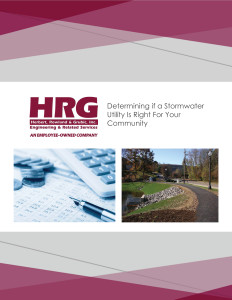 It includes
• Answers to common questions about stormwater utilities
• Advice for how to build public consensus for stormwater fees
• An outline of the early steps you should take when investigating the feasibility of a stormwater utility
Download the guide at
www.hrg-inc.com/stormwater-utility-guide
---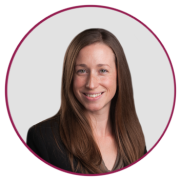 Erin G. Letavic, P.E., is a project manager in HRG's Civil Group. She guides municipalities and cooperative groups throughout Pennsylvania through the management of their MS4 permits, provides grant application development and administration services, and provides retained engineering services to local government.
http://www.hrg-inc.com/wp-content/uploads/2016/09/writing-828911_1920_733x548.jpg
548
733
Judy Lincoln
http://www.hrg-inc.com/wp-content/uploads/2015/04/Logo.jpg
Judy Lincoln
2016-09-29 12:30:03
2016-10-04 13:16:28
Tips for Preparing Your 2018 MS4 Permit Application